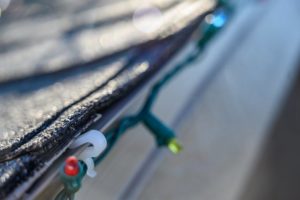 The holiday season is quickly approaching, which means that you've most likely started pulling all of your Thanksgiving and Christmas decorations down from the attic and out of the garage. Before you start setting everything up, it's a good idea to have a plan to make sure that you don't accidentally damage the gutters while you're putting up your Christmas lights. Read on for a simple six-step process to help you safely hang up your holiday lights without any complications.
Step 1: Plan Your Design
Pick a focal point on your home that you want to light up, like the entrance or any columns, and build your lighting design around that. Make sure to develop an overall game plan and ensure that you have enough lights that you pulled out of storage to complete your planned design before you head to the store for supplies.
Step 2: Purchase the Proper Light-Hanging Equipment
When you hit the store, be sure to have a shopping list in hand so you can complete your project the same day without having to travel back and forth every time you realize you forgot something. For easy hanging and to make sure you don't damage your gutters, make sure to purchase gutter clips. Don't forget to purchase any necessary safety equipment as well, such as gloves, and be sure that you have enough extension cords.
Step 3: Measure Any Straight Lines on Your Home
If you want to adorn any straight lines on your home with lights, measure these ahead of time to plan how many strands you'll need to do it. To prepare, before you get up on the ladder, you can place the number of strands you'll need in a pile on the ground. That way you won't have to fumble through a box every time you put a strand up.
Step 4: Attach the Lights to Your Home
Your all-purpose light hanging gutter clips should allow you to easily attach your Christmas lights to the gutters outlining your home without accidentally bending or damaging them. Hang your lights pointing up or down, and make sure that all of the clips are attached facing the same direction.
Step 5: Don't Forget Trees, Patios, & Railing Lights!
If you have any trees, columns, bushes, railings, or patio décor that you'd like to light up, don't forget to do this to complete the look of your home! You likely won't require any clips for these and can easily wrap them around so they stay securely in place.
Step 6: Flip the Switch
Finally! It's the moment you've been waiting for. Flip the switch, plug in all of your extension cords, herd your family outside, and enjoy all of the hard work you put into your Christmas light design.
About Platinum Gutters
At Platinum Gutters, we're here for you whenever you need our help, including if you accidentally busted one of your gutters putting up Christmas lights! We are completely bonded and insured and provide affordable, zero percent financing for homeowners. For any questions or to get a free estimate, visit our website or call 817-380-4404.