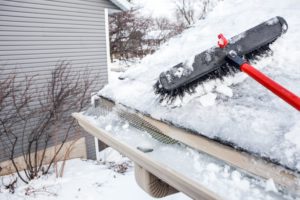 Taking care of the gutters on your home is incredibly important, especially during the winter. Although all of the icicles that dangle from your gutters may look pretty, they can actually cause major damage to your home. When ice clogs up your gutters, it can lead to water damage on your roof when it begins to melt, which is a costly problem to fix. To prevent frozen gutters and water damage come spring, here are five tips to make sure ice dams don't form in them.
Properly Slope Your Gutters
If your gutters aren't sloped properly, it could lead to debris buildup that can turn into a frozen ice dam in the winter, keeping any water from draining away from the foundation of your home. If they're flat, any melted snow or water will stay stagnant, which could easily freeze overnight when the temperatures drop. Before you find yourself in the midst of a winter ice storm, make sure that your gutters are at the right slope to drain properly.
Keep Your Gutters Clear of Debris
The number one gutter maintenance tip is to make sure that they're always clear of any debris. Just like with water accumulation, debris like leaves and sticks can build up and get wet, causing them to clump together and freeze. These ice barricades can damage and prevent your gutters from doing their job.
Add Sodium Chloride to Your Gutters
Just like when you add rock salt to your driveway to help break apart layers of ice so you can shovel them away, you can use sodium chloride to also melt ice in your gutters. Using a small cup, you can sprinkle it inside your gutters to keep icicles from forming and prevent the problem from ever occurring.
Clear Away Any Snow on Your Roof
If it snows overnight, you'll want to clear it off the roof to keep it from melting during the day and freezing up in your gutters the next night. You can do this with specially made roof rakes that can extend to reach the very top of your home.
Try Heating Your Gutters with Cables
Did you know that you can heat your gutters with special cables, preventing ice and snow from lingering in them and ruining them? Once the snow and ice are melted, the water will simply travel through the downspout and away from the foundation of your home, preventing any costly water damage from occurring.
You can keep your gutters in great shape this winter with these five easy preventive tips to keep icicles from forming on or in them. If you do notice that the winter got the best of you and damaged your gutters, be sure to reach out to your local gutter professional to repair the problem before it causes expensive foundation or roof damage.
About Platinum Gutters
At Platinum Gutters, we're happy to provide homeowners with the knowledge and services necessary to keep their homes in great shape. We offer a variety of gutter-related services, including leaf guards to prevent debris build-up, and installation and repairs. If you need your gutters checked before the snow and ice hit, don't hesitate to visit our website or call 817-380-4404.