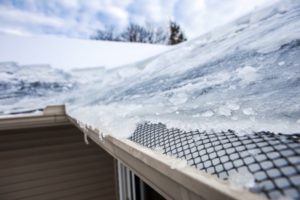 Just like a car that needs routine oil changes and filter replacements, your gutters also require regular maintenance. During the winter, your gutters are at risk of being affected by snow, ice, and debris, which is why it's important to do some gutter prep before the bad weather settles on your home. It's always easier to prevent problems than to have to repair damage that has already been done. Read on for five winter gutter maintenance tips to complete to keep your gutters functional and prevent issues from developing.
Clear Your Gutters of Debris
Over months, your gutters will catch a lot of debris, especially if you have trees, bushes, and other plants in your yard. As the cold weather arrives, leaves and twigs can collect and block your gutters, ultimately freezing and keeping your gutters from doing their job. Before everything begins to freeze, it's a good idea to clean out any debris and large ice dams that could prevent the flow of water.
Make Any Small Repairs
Over the course of the year, wind and hail can rattle your gutters and loosen the screws that mount them to your home, affecting their tilt and causing them to sag or sway. It's a good idea to inspect your gutters surrounding your home and make sure to tighten any loose screws to keep your gutters from falling off your home or not functioning properly because they're not at the right tilt to allow water to drain away from your home.
Seal Gutter End Caps
There are seals at the end of your gutters. It's important to make sure that they're tight, effective, and not leaking any water at the base of your home, close to the foundation. If you see that they're dripping, be sure to reapply seals to make them watertight.
Trim Branches
Ice is strong, heavy, and can accumulate and weigh down weak tree branches in the winter, causing them to fall and crash onto your roof or gutters. Not only can this cause damage to your roof that's expensive to fix, but when the problem is left unaddressed, it could also keep your gutters from doing their job and cause water to pool at the foundation of your home. To keep this from happening, it's important to trim your branches back.
Consider Adding Heating Cables
Heating cables for your gutters are a great addition in the winter, because they can keep ice dams from forming and creating barricades of debris. If you don't want to run an extension cord outside for the heating cables, you can also try using heating tape to keep ice from accumulating in your gutters.
By checking off each of these five tasks on your winter gutter prep checklist, you can avoid costly damage to your home down the road.
About Platinum Gutters
At Platinum Gutters, our team of experienced and trusted professionals delivers exceptional gutter repair, damage prevention, and replacements to make sure that you don't experience water damage or accrue other costly expenses over the winter. We offer free estimates and come fully bonded and insured, so you can trust that you're choosing the best gutter contractor when you call us. For questions or to schedule a free quote, visit our website or call 817-380-4404.