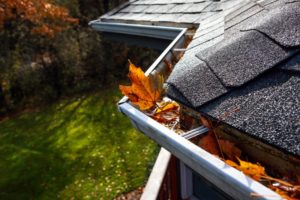 Each component of the outside of your house serves an important purpose to protect it from weather, like the shingles on your roof, windows, siding, and even though you may not think about them very often, your gutters. Sometimes, it can be easy to neglect your gutters because you never really consider them until they're overflowing with wet leaves or damaged. However, that's all likely going to change after you read this blog post. Read on to learn why gutters are important and what you should do to help them keep doing their job.
What Exactly Do Gutters Do?
Gutters are responsible for rerouting rainwater away from your home. From torrential downpours to dew, moisture can collect and wreak havoc on your siding, windows, and the foundation of your house. Without your gutters, rainwater would collect at the base of your home or on your roof, eventually allowing it to soak into porous materials and result in expensive and serious water damage.
The gutters on your home are also crucial to protecting your landscaping, keeping your basement from flooding (if you live up North and have one!), and even causing erosion. Once the damage has been done, it can cost thousands of dollars to repair, and may even cause permanent problems.
How Can You Keep Your Gutters Functional?
Fortunately, maintaining your gutters isn't that difficult of a job. All it takes is a little bit of time and diligence. They need to be regularly cleaned and inspected, and if you do spot some damage, it's important to take care of it right away to keep it from resulting in an even bigger issue down the road.
Your gutters should always be free of any erosion or gaps that cause water to leak directly onto your foundation. The downspouts, which are responsible for redirecting water away from your home, should always be facing outward, three to five feet from the foundation of your home. To make sure that your downspouts are always directing water where they should, ensure that they aren't backed-up with debris like sticks and leaves. Finally, be sure to clear your gutters of any debris and regularly check them throughout the entire year, especially during the fall, winter, and spring.
How Can You Improve Your Gutters?
If you're concerned about your gutters being functional, and you don't have enough free time to provide them with the maintenance they need, there are special add-ons and accessories to help you out. You can keep your gutters from becoming clogged by adding a LeafGuard over the top of them. This allows them to continue catching rainwater without becoming filled with sticks and leaves. You can also add a heating cable during the winter to make sure ice dams don't clog your gutters.
Even though your gutters may not seem like a crucial part of your home, they're incredibly important in preventing costly and serious issues, like water damage. They're truly worth investing your time and effort into, because they can save you thousands of dollars in the long run!
About Platinum Gutters
At Platinum Gutters, we're the experts on gutter maintenance, repair, and installation. We've helped thousands of DFW residents improve their gutter systems and prevent serious water damage by installing LeafGuards and fixing improperly angled gutters. Our work comes with a satisfaction guarantee for our homeowners' peace-of-mind, and we offer free estimates. For questions or to schedule your estimate, visit our website or call 817-380-4404.