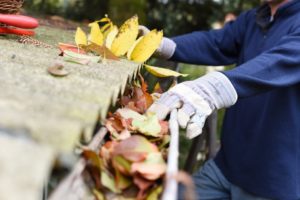 As you climb the ladder and put on your gloves, you remember just how much you hate cleaning the gutters. It takes hours out of your weekend, and handling that gunk grosses you out. You know this needs to be done, but there has to be an easier way to approach gutter cleaning than this, right? Read on to learn how you can make this home maintenance chore easier.
Why Clean Gutters Matter
You may be wondering whether you can just ignore the problem altogether. It may be tempting to skip this laborious task, but you could end up regretting it later. Your gutters are meant to direct water away from the foundation of your house, because too much water can create cracks or other costly damage. If your gutters are clogged with leaves and other debris, they can't function properly, putting your home at risk.
To better keep your home in good condition, gutters should be cleaned about two or three times every year, perhaps more if you live in a densely wooded area.
Option #1: Purchase the Right Tools
Although you could try to tackle cleaning out the gutters by hand, it can quickly become messy, disgusting work. There are tools available that supposedly make this chore easier, such as leaf blower extensions or Shop Vac attachments; however, in some cases, these can make the process more cumbersome and frustrating. Also, these tools often don't come with warranties, so you could end up spending more money later on to repair or replace them.
Option #2: Hire Someone to Clean Gutters for You
If you know some teenagers or neighbors looking for some extra cash, you could hire them to do this chore for you instead. While this labor may be cheaper than hiring a professional, keep in mind that a layperson may not recognize the signs of gutter failure. However, paying for this service at least twice every year, whether from a professional or an amateur, can quickly add up and put strain on your wallet.
Option #3: Buy Leaf Guards
Have you heard the expression that "an ounce of prevention is worth a pound of cure"? This old saying definitely rings true when it comes to your gutters. The easiest way to keep your gutters clean and in excellent condition is to prevent your gutters from getting clogged and messy in the first place. Leaf guards stop leaves, needles, and other debris from building up inside the gutters, allowing water to freely flow where it should—down the spout and away from your house.
Ultimately, you need to do your part to keep your gutters clear of debris so that your home can stay in good condition for as long as possible. Based on your schedule and your tolerance for gunk, you can decide which option best meets your needs and makes your life easier.
About Platinum Gutters
Our team at Platinum Gutters is proud to serve Keller, Flower Mound, and surrounding areas in DFW. In addition to gutter replacement, we also offer high-quality leaf guards that can protect your gutters from buildup and water damage. Unlike the cheap mesh guards you can find elsewhere, our leaf guards won't warp, bend, or wear down. If you would like to receive a free estimate for leaf guards, you can contact Platinum Gutters through our website.