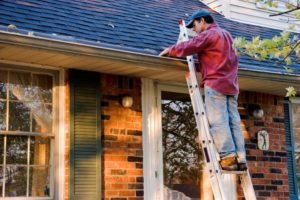 Gutters aren't a feature of a home that many people stop to consider their condition, even though they're incredibly important. Without the proper protection, your roof, foundation, and walls could be subject to expensive and costly damage, like mold and infrastructure issues. That's why professionals recommend examining your gutters at least twice a year when you clean them out. Read on to learn about four signs that will let you know that your gutters need to be repaired or replaced during your inspection.
You Notice Rust
Gutters are built to endure the weathering, like wind, rain, snow, sleet; however, after years of doing so, they'll eventually begin to show signs of wear-and-tear. One of the biggest red flags that let you know that you need to have your gutters repaired or replaced is if you notice rust. For small spots of rust, you can attempt to scrub it off with a wire brush and hope that the damage doesn't get worse. For more extensive rust, you'll likely need to have your gutters professionally repaired so they can continue doing their job.
There's Water Damage in or Around Your Home
Your gutters help protect your home from water damage, so if you notice any water damage near the foundation of your home or inside your house near your ceiling, it could be due to your gutters not doing their job. In this instance, it's best to have them inspected, and if the damage is severe, professionally replaced.
Water is Sitting in Your Gutters
Water should never stay stagnant in your gutters—it should always move through them, down the downspout, and away from the foundation of your home. If it's not graded properly, or tilted at the ideal angle to allow the water to flow, it will cause the water to collect and spill over, eventually leading to damage. In this situation, a simple repair would suffice.
The Fasteners Are Broken
The fasteners are small pieces of metal that hook your gutters to the roof of your house and keep them level. If you notice that one of them is broken or you see a loose screw directly under them, you'll need to call someone out to repair and re-level them.
By taking a little bit of time twice a year to examine your gutters for these four signs, you'll be able to keep them functioning and prevent thousands of dollars worth of damage.
About Platinum Gutters
At Platinum Gutters, our team knows gutters in-and-out. We do gutter installation, repairs, replacements, and install handy leaf guards to keep them from becoming damaged. We also offer affordable, 0% financing for homeowners. For questions or to schedule a free in-home estimate, visit our website or call 817-380-4404.