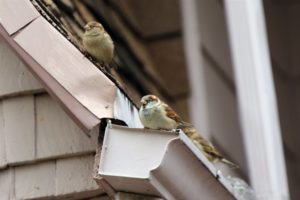 As an animal lover, you enjoy hearing the chirping of birds and seeing little squirrels scurrying in the trees outside. But are you willing to make your home their home too? Probably not. If you don't pay attention to your gutters, little animals could be infesting this area, which spells trouble for you and your house. Read on to learn how this happens and what you can do about it!
Why You Don't Want to Have Animals Living in Your Gutters
At first, it may not seem like a big deal to have little critters in your gutter system, but they can cause real, expensive damage to your house. When water remains stagnant in the gutters, they can rust over and allow water to overflow. Without functioning gutters, rainwater spills out close to the foundation, potentially leading to cracks and other serious problems. Plus, being in the gutters could allow these critters to get into your home, where they are certainly not welcome. Needless to say, it's safer and better for everyone if these animals stay in their natural habitats.
Types of Critters That Can Make Your Gutters Their Home
These are the kinds of animals that you could be dealing with if you have clogged gutters:
Birds: When birds have established a nest, they are typically very territorial. Unfortunately, they can set up in your gutter because of the accumulation of debris.
Squirrels: Many houses have tree limbs that extend over the gutter system, allowing squirrels easy access.
Chipmunks: If your gutters are clogged, the downspout may become the perfect home for these ground-dwelling rodents.
Lizards: Where you have trapped moisture, you're bound to get bugs like mosquitos and flies, which are the primary food for lizards.
How to Stop Wildlife from Settling in Your Gutters
If you want to get rid of these gutter invaders, you need to remove what they find appealing—the debris. Once the leaves, pine needles, and other objects are taken away, the rainwater from the roof can freely flow down and away from your house. As a result, these critters will leave and find a more appropriate environment to call home. That's why it's important to clean out your gutters on a regular basis.
Unfortunately, this chore can take hours and involve handling moist or decaying debris. An alternative to cleaning out the gutters is to get guards for them. These prevent debris from accumulating in the first place. Not only do they keep animals from settling, but they also help you avoid having this time-consuming, often gross responsibility.
If you really do love animals, you'll do what's necessary to keep them out of your gutters and where they belong. In doing so, you can also protect your house from the elements and little critters who can cause damage.
About Platinum Gutters
Platinum Gutters is a premier gutter repair and replacement company based in Dallas-Fort Worth. We are proud to serve the Keller and Flower Mound areas and help homeowners have better water drainage for their properties. In addition to gutter replacement, we also offer gutter guards to protect our clients' investment in their homes. If you would like a free estimate on replacing your gutters, contact Platinum Gutters through our website.