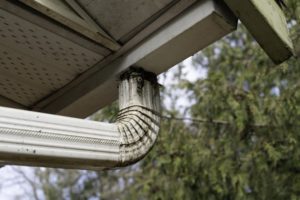 Your gutters may not sound like a vital part of your home maintenance, but they are! In fact, without them, you may find yourself dealing with thousands of dollars in repairs having to do with water damage and foundation problems. Since fall is just around the corner, it's a good idea to start routine gutter maintenance, checking to see if they may be leaking or damaged. If you do find a leaky gutter, here's what you should do to keep it from further damaging your home.
Signs That Your Gutters May Be Leaking
The best way to keep up with the status of your gutters is to inspect them throughout the year, especially after rain or ice has a chance to collect in them. Take a walk around your house and take note of where the water is falling from. If it's falling anywhere but your downspout that's pointed away from the foundation of your home, then you've likely got a problem. If it isn't raining outside, you can also look at the sides of your home and walkways that your gutters may be located over. If you see any dampness in areas that aren't located near the downspout, you could have a leak.
What Causes Leaky Gutters?
Clogged Gutters. One of the most common reasons why you'll notice that your gutters aren't draining properly is because they're clogged with leaves or debris. Fortunately, this is an easy fix!
Holes or Damage. If your gutters are rusted, damaged, or have holes or cracks in them, you'll need to either have them repaired with a waterproof sealant or replaced, depending on the extend of the damage.
Loose Hangers. Gutters are typically hung from what's called the "fascia board" on the house with small hanging hardware. If one of the hangers is loose or came undone, it could cause that part of the gutter system to sag, preventing it from properly guiding the water to the downspout.
Separated Gutter Joints. If your gutters have taken a beating after a storm or haven't been examined in a while, they may be separated at the joints. These areas are notorious for collecting debris, causing them to erode over time, so be sure to pay extra attention while inspecting them.
Fixing Leaking Gutters
There are two ways you can repair your gutters, depending on why they are leaking water:
Get Leaf Guards. Leaf guards are grates that you can secure over your gutters that will prevent debris from collecting in them, while allowing water to freely move through them and help them do their job. Leaf guards also makes cleaning your gutters significantly easier.
Replace or Repair the Damaged Parts. If you notice that your gutters are loose, hanging, or damaged, you'll need to call a professional in to make sure they get repaired correctly. If the damage is beyond repair, then they'll be able to replace them.
With routine inspections of your gutters and regular maintenance, you should be able to catch any leaks and damage before it can result in needing significant repairs on your roof or foundation. This will help minimize the extent of repairs needed whenever you do notice a leak.
About Platinum Gutters
Platinum Gutters is locally-owned and operated by experienced, helpful professionals. We offer several gutter installation, replacement, and maintenance services and are always attentive to each homeowners' needs. To learn more about our services or to schedule a free in-home estimate, visit our website or call 817-380-4404.