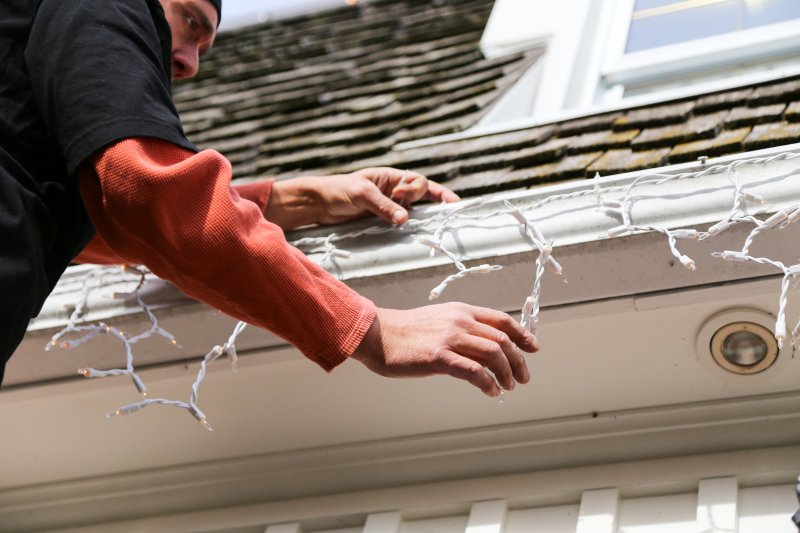 The temperature is dropping, the leaves are changing colors, and the sun is setting much earlier. It's that magical time of year everyone looks forward to – the holiday season! Now that Christmas is right around the corner, you're probably getting ready to hang your decorations. While putting up your Christmas lights, the last thing on your mind may be your gutters, even though it should be a priority. Here are a few tips to keep in mind so you can avoid damaging your gutters.
Prepare Your Lights
First and foremost, you'll want to make sure your Christmas lights are good to go before you hang them up. Purchase ones that are designed specifically for outdoor use and check the cords carefully to ensure they're not damaged or frayed. A faulty strand is not just a safety hazard, but it could ruin your entire design. Don't forget to get proper light clips as well! They have specific ones for every surface, including gutters and shingles. By using the right materials, you can greatly minimize the risk of damaging your gutters.
Test Your Lights
Before you hang your Christmas lights, test them first to make sure they work. While on the ground, it's a good idea to go ahead and attach your light clips. That way, you can ensure they're all facing the same direction and are clipped on properly.
Attach Lights to Gutters
Are you attaching lights to your gutters? Make sure you use an all-purpose light clip. That type is ideal because it works with any type of light! While hanging the lights, make sure they're all clipped in the same direction. If you don't have gutters, you can still use the same clip to attach the lights to your shingles instead.
Set a Timer
The last thing you want is to wake up in the middle of the night and find your Christmas lights have been on for far too long. Luckily, you can avoid these incidents by setting up a timer. Once your lights are up and ready to go, plug them into an outdoor timer. You can purchase one that uses light sensors, so it'll automatically turn on at dusk.
Flip the Switch
After hanging your Christmas lights and setting up your outdoor timer, you're done! Now you can sit back, relax, and admire your hard work. Grab yourself a cup of hot chocolate, flip on the light switch, and enjoy the incredible Christmas lights display you created.
Review the tips outlined above before you hang your Christmas lights. By doing so, you can ensure your house looks merry and bright without putting your gutters at risk!
About Platinum Gutters
At Platinum Gutters, we will always go the extra mile to get your home in its absolute best shape. Our team is happy to provide all your gutter installation and replacement services. For more holiday Christmas lights tips, visit our website or contact us.