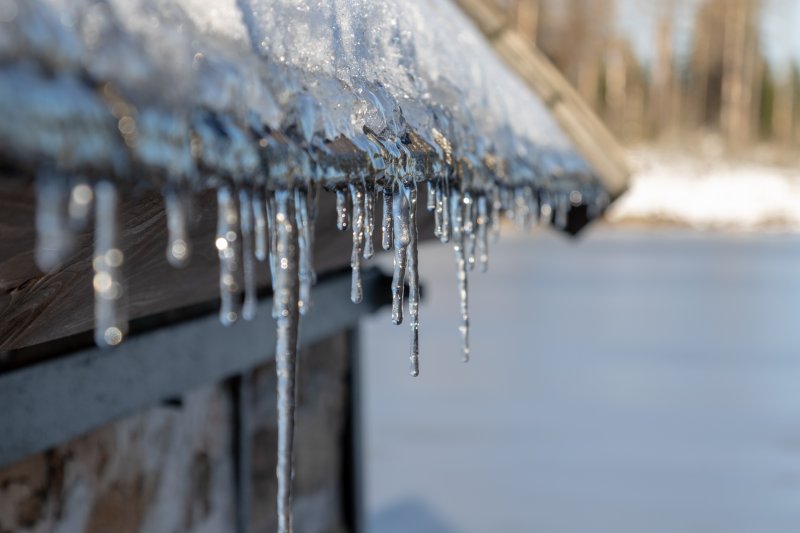 During the winter months, your gutters can freeze if you don't take the proper preventive measures. Most people may not realize it, but frozen gutters can lead to some costly repairs. They can also cause backups that lead to water infiltration and roof leaks. Luckily, you can avoid these incidents by taking all steps necessary to keep your gutters free of ice. To help you out, we've compiled a list of ways you can keep your gutters from freezing in the first place.
Adjust the Slope of Your Gutters
A rain gutter slope allows water to drain through your gutters to your downspout. If your gutters are too flat, water can sit there instead. Allowing it to stand still overnight increases your risk of the water freezing and forming ice. Since water expands when it freezes, your rain gutters can warp and crack under the additional pressure. To prevent that from happening, make sure you assess your gutters and adjust the slope (if needed) before the cold weather sets in.
Keep Your Gutters Clean
Right before the winter season begins, you must thoroughly clean your gutters to keep them from clogging once the snow begins to fall. If there are leaves, sticks, pine needles, or acorns blocking your gutters, the melted snow may re-freeze into solid ice, leading to frozen gutters. Don't forget to include your downspouts in your cleaning! If your downspout doesn't drain properly, your entire gutter is likely to freeze solid.
Try Adding Sodium Chloride
Most people know that rock salt can melt ice on walkways. However, it should never be used in your gutters. All forms of salt (i.e., table salt, Epsom salt, sea salt) are corrosive to metal. Instead, sprinkle a bit of sodium chloride in your gutters to nip any ice problems in the bud. It's a safe way to melt the ice in your gutters and keep icicles from forming!
Remove Snow from Your Roof
Snow is light, fluffy, and extremely fun to play with! But if you leave it on your roof, it can turn compact and heavy, eventually compressing into an ice-like state that can block and freeze gutters. To keep your gutters free of snow, consider investing in a roof rake. You can use it to pull snow off your roof, preventing snow and ice buildup in your gutters. Although it can add a few minutes to your snow shoveling routine, it's well worth the effort to avoid roof leaks and gutter damage.
Use Heated Gutter Cables
Do you still get ice in your gutters despite your best efforts? Purchase a heated cable designed for gutters and rooftops! You can line your gutter and downspouts. When you turn the cables on, the heat will melt the ice in your gutters to keep them from freezing.
Even though not all damage is avoidable, following the methods outlined above can keep your gutters safe this winter season. That way, you can prevent water damage to your home and get through this time of the year without any gutter-related issues.
About Platinum Gutters
At Platinum Gutters, we offer exceptional, individually tailored, friendly services that can get your home in optimal conditions. Our team is more than happy to provide all your gutter installation and replacement services. If you do end up needing to fix ice-damaged gutters this winter, don't hesitate to contact us for professional maintenance and repair. Visit our website or call us to speak to a member of our team.