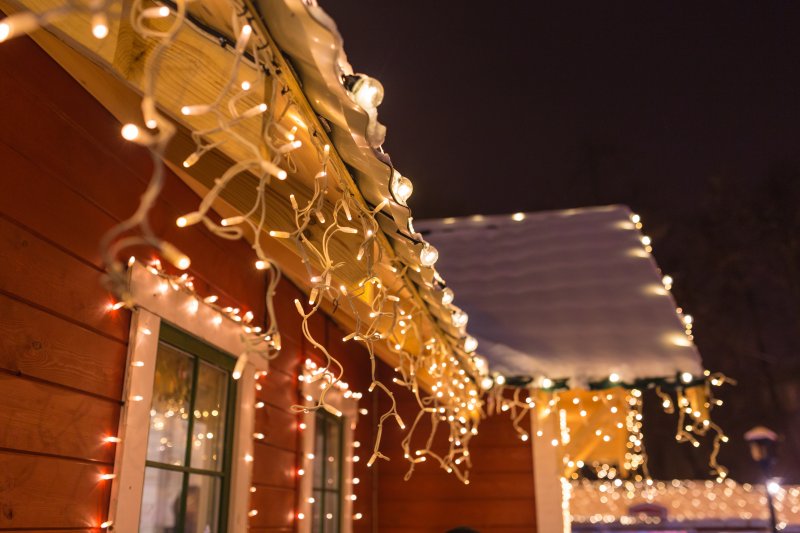 The end of the year is slowly approaching, which means the holiday season is officially in full swing! In celebration of this magical time, families across the country are decorating their homes with Christmas decorations. If you're hanging lights on your own, the last thing on your mind is likely your gutters. However, they should be a priority. Read along to learn a few helpful tips to avoid damaging your gutters this season.
Prepare Your Lights
The first thing you need to do is make sure your Christmas lights are good to go before hanging them up. With that being said, you should purchase ones designed specifically for outdoor use. After purchasing, check the cords carefully to ensure they're not damaged or frayed. A faulty strand is not only a safety hazard, but it can ruin your entire design.
While doing your Christmas shopping, don't forget to purchase proper light clips as well. They have specific ones for every surface, including gutters and shingles. Using the right materials will help significantly lower the risk of damaging your gutters.
Test Your Lights
Before hanging up your Christmas lights, test them out first to ensure they work properly. You should also attach your light clips while your lights are on the ground. That way, you can ensure they're facing the same direction and are clipped on correctly.
Attach Lights to Gutters
If you're attaching lights to your gutters, you need to make sure you're using an all-purpose light clip. It's the ideal type because it works with any type of light. While hanging your Christmas lights, check to ensure they're all clipped in the same direction. Even without gutters, you can use the same clip to attach the lights to your shingles instead.
Set a Timer
No one wants to wake up in the middle of the night to find their Christmas lights have been on for too long. To avoid these incidents, you should set up a timer. It's a good idea to plug your lights into an outdoor timer once they're up and ready to go. You can purchase one that uses light sensors so they'll automatically turn on at dusk.
Flip the Switch
The hard work is done! Once your Christmas lights are up and you've plugged them into a timer, you can relax and admire your home. Get some hot chocolate, flip on the light switch, and enjoy the incredible light display you have created.
Ready to hang your Christmas lights? Make sure you review these tips before doing so. That way, your home can look merry and bright without putting your gutters at risk!
About Platinum Gutters
At Platinum Gutters, we offer personalized, friendly, and high-quality services to ensure your home stays in tip-top shape all year long. If you have any concerns about hanging Christmas lights on your gutters, our experienced team is prepared to assist you. After all, we only want what's best for you and your home! You can reach us via our website or call our office today.