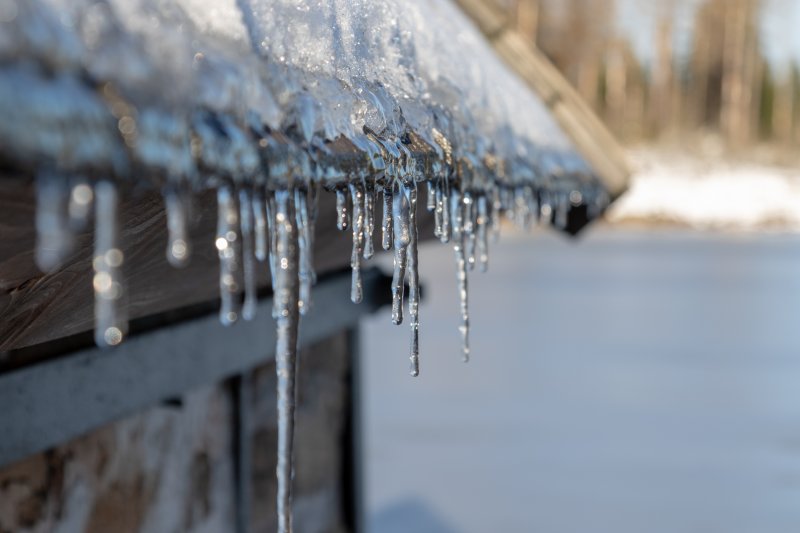 The temperature is dropping, the days are getting shorter, and stores are lining their shelves with holiday decorations. We've officially hit the winter season! Many people look forward to bundling up in the cold weather, but it can actually cause major damage to your home. Since water expands when it freezes, icicles can cause your rain gutters to warp and crack under additional pressure. Plus, gutters clogged with ice can lead to the formation of ice dams on your roof, creating serious water damage inside your home. Read on to learn how you can prevent frozen gutters and keep your home safe!
Make Sure Your Gutters Are Properly Sloped
How do your gutters look? You need to make sure they're properly sloped to ensure the water drains through your gutters to your downspout. If they're too flat, water may just sit there instead. Allowing the water to stand still overnight will run you the risk of the water freezing and forming ice. For that reason, you need to assess your gutters and adjust them as needed before the cold weather kicks in. Doing so will help you avoid iced gutters caused by poor drainage.
Clean Your Gutters
After all the leaves have fallen from the trees in your backyard, you should clean your gutters before winter hits. Otherwise, the soggy leaves and other debris will block water and allow it to pool. If that happens, the undrained water will likely freeze and form ice, causing problems like iced gutters that last for prolonged periods over the wintertime.
Add Sodium Chloride to Your Gutters
If you live in a snowy area, you may already know that rock salt is commonly used to melt ice on your walkways. Well, sodium chloride itself can melt ice in your gutters! Just sprinkle a bit in your gutters to nip any ice problems in the bud, especially if you notice icicles beginning to form.
Remove Snow from Your Roof
In some cases, it's impossible to keep gutters from freezing or icing up. To prevent issues from blizzards or snowstorms, it's a good idea to invest in a roof rake. You should use it to keep your gutters clear of snow and leaves!
Try Heated Gutter Cables
Still getting ice on your gutters no matter what you do? There's one more solution you can try – heated cable gutters! They're designed specifically to prevent gutters and rooftops from freezing. If you have one, string the cable along the top of your gutter. The gentle heat will melt the ice in your gutters, making the remaining water shed away from your home.
Don't forget to protect your gutters this holiday season! If needed, you can always inquire about professional gutter services. With their help, you can avoid having to deal with frozen gutters down the line.
About the Practice
At Platinum Gutters, we're happy to provide all your gutter installation and replacement services. Our team is experienced in preventing, treating, and fixing issues related to ice-damaged gutters. If you want to prepare your home for the coming months, don't hesitate to reach out. For an estimate, visit our website or call our office today.