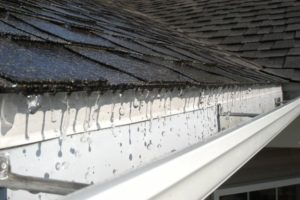 You probably don't think or discuss all of the details and parts of your home's roof and siding very often. However, your roof is an important part of your house, and it's wise to be sure that it has all of the features it needs to last well and withstand everything that Mother Nature throws its way. This includes gutter flashing, one of the best-kept secrets for water-proofing a roof. Keep reading to learn a little more about what gutter flashing is and why it's worth it.
What Is Gutter Flashing?
Simply put, gutter flashing provides a waterproofing tool that diverts water from the roof's fascia (the transition trim between the home and the roofline) and into the gutter itself. It usually consists of a thin, rectangular strip bent at a precise angle that's able to divert water that falls from the drip edge into the gutter. This waterproofing tool generally comes in aluminum and plastic, both of which are easily installable and have their own respective benefits.
Why Is Gutter Flashing Necessary?
The gutter flashing acts as a barrier that keeps water from dripping behind the gutter. This also blocks it from seeping into the home's wall, which in turn prevents damage to the siding, the interior wall studs, and the sheetrock that comprises the flat face of your home's interior walls. If water is able to seep into the wall due to a faulty gutter or roof, it can cause mildew, mold, rot, and all sorts of other expensive issues that might also threaten the health of any residents.
Ideally, every roof should have two types of flashing; a drip-edge roof flashing and in-gutter flashing. The drip-edge flashing is intended to keep water from getting blown back under the shingles, while in-gutter flashing creates angles that force water directly into the gutter. These types of flashing can work in tandem to protect the roof sheathing and fascia from rotting, while also ensuring the siding doesn't become stained or damaged.
Improperly installed flashing or no flashing on gutter at all can actually create larger problems for you down the road, such as sagging or expensive leaks. That said, don't hesitate to ensure that your roof and home are protected from the hazards posed by water damage.
About Platinum Gutters
Here at Platinum Gutters, we're thrilled to offer homeowners in the DFW area a wide variety of personalized and affordable gutter services. If you have any questions about the article or would like to request additional information or receive an estimate, don't hesitate to contact us today!