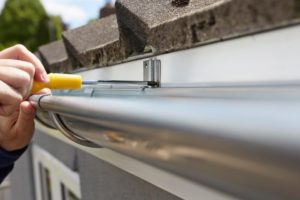 Before you know it, spring will be here, marking the start of outdoor chores and maintenance, including clearing the gutters. However, there's one thing you may see before climbing on the ladder—whether your gutters are loose. How can you tell when the gutters need to be fixed or replaced? What are signs to watch out for? Keep reading to learn three things to look for!
The Gutters Are Sagging or Bowed.
When the hardware holding up your gutters fails, they can slowly look like they're falling. Sagging or bowed gutters may be worn out from age, but if they are under 10 years old, replacing the screws and other hardware should suffice in holding them up where they are supposed to be.
Water Drips Fall Behind the Gutters.
Gutters that function properly and are installed correctly divert water from the roof away from the house and down out of the drain. However, if there is too much space between the roof and the gutter or the fascia and the gutter, drops can fall behind and have access to your house, defeating the purpose of having the gutters in the first place!
Every now and then when there is a rainstorm, be sure to inspect your gutters to make sure water flows where it is supposed to go—into the gutters, not behind them. If you see this happening, it's a sure sign that your gutters are loose and need to be addressed.
The Gutter Screws Aren't Secure.
When the gutters are loose, it doesn't always mean that you have to replace all of them. Sometimes, the issue is as simple as tightening the screws that hold the gutters to the house. Before you call gutter experts, check the screws to see if they are secured properly. If they aren't, tighten them and see if this makes a difference. Otherwise, you can call knowing you've eliminated this basic problem first.
When to Replace Your Gutters
In some situations, such as some of the scenarios previously discussed, loose gutters can be fixed on your own. Replacing the hardware or finishing the installation may address the issue. However, if your gutters show signs of damage, are 15 years or older, or simply aren't working to protect your home, it is time to bring in experts for replacement. Otherwise, you put your home in harm's way.
Dealing with the gutters may not be your favorite spring activity, but it needs to be done if you want your home to stay in excellent condition. Making sure the gutters are not loose and working as they should be can reduce the impact Mother Nature has on your home.
About Platinum Gutters
Platinum Gutters happily serves homeowners in the Keller and Flower Mound and surrounding areas in DFW. We know that by keeping your gutters in tip-top shape or replacing them with new ones, homes are less likely to experience foundation issues and water damage. If you think your gutters need to be replaced, don't hesitate reaching out to us and scheduling an estimate by contacting us online here.