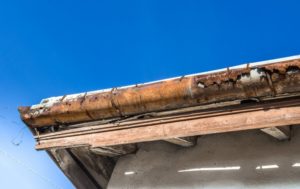 When you're a homeowner, you have many concerns on your mind regarding your property. In addition to keeping it clean, you have to keep a keen eye out for necessary repairs before they lead to expensive projects. Between maintaining your home inside and out, it can be easy to forget or overlook the gutters, but they are important to protect your home from water and foundation damage.
If you're not paying attention, you can miss the signs that your gutters need professional replacement. Read on to learn what these signs are so you can keep your home safe and dry.
Your Clean Gutters Have Sitting Water.
If your gutters have leaves, needles, and other debris in them, it stands to reason that water will probably be stuck there. However, if you have sitting water after your gutters have been cleaned, it means something is wrong. Gutters are supposed to move water toward the spout and away from the house, not allow water to remain stagnant.
In this scenario, you will probably need a professional to identify the problem and fix it because the problem could be more extensive than you think.
There's Rust on the Gutters.
Although a little bit of rust can be cleaned off with a wire brush and scrubbing, most of the time, significant rust points to the end of your gutters. Left alone, rust will erode the metal, causing holes or weak points for water to penetrate, dripping around the foundation or into the house.
In addition to being dangerous for your house, rusty gutters make your home look old, dingy, and poorly maintained. Even if you have nice landscaping or a fresh coat of paint on the exterior, rust will bring down your home's curb appeal and put it at risk of damage in the long term.
The Gutter Fasteners Are Broken.
Gutter fasteners may be small, but they have an important job—they keep the gutters level and attached to the house. Little fixes, such as loose screws can be addressed on your own, but when fasteners are broken or damaged, a professional team will make sure the gutters are reinstalled properly.
Your gutters make a significant contribution to keeping your house better protected from water damage. So while you're maintaining your home in other ways, avoid more costly repairs down the road, and don't forget to look for signs that your gutters should be replaced.
About Platinum Gutters
Platinum Gutters is locally owned and operated, based in Keller, TX. In addition to offering the industry standard K style aluminum gutters, our award-winning team focuses on completing work safely, correctly, and securely. Do you need to have your gutters replaced? Get a free estimate by contacting our team online here.